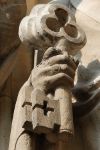 Content: explanations about cryptography, SSL and PGP, then signing-party
Date: 2012-05-21 18:45+02:00
Duration: 02:15
Monday 21st during at 18:45, in Paris, there will be a conference organized by Parinux, where I will explain the principles of cryptography and their application in the SSL and PGP systems. This conference will be followed at 20:30 by a signing-party PGP et CAcert.
For the signing-party, I will ask participants to:
generate a key pair if you do not already have one;
print some copies of your key fingerprint;
print the list of participants I will send you;
come with all that stuff and one or two identity documents.
This is a partial translation of the full article I wrote in French, in case foreigners could attend. Sorry for the very late notice…